Low Voltage Voice & Data Wiring
CAT 5 & CAT 6 Wire & Cabling Installation
The TechVoo® business network installation services for voice and data, structured cabling, network cable clean up, CAT5 and CAT6 low voltage wiring as well as Lighting, Switches, and Outlet installation services.
TechVoo® Wiring Networks specialize in commercial voice and data cabling for warehouses, new business office setup, medical office, cubicles, and other workspaces.
The goal is to complete every project on-time and on-budget. We are local expert network cabling installers for warehouse, office and commercial spaces. Call today for a free estimate on professional cable installation in CAT5, CAT5e, CAT6, CAT6a, and voice wiring for office, warehouse, build-out, or new construction.
Our network design team of installers and technicians are highly trained professionals providing Nationwide services from our conviently located O'hare office.
• We travel to your job-site
• We have experience working with corporate IT – we're your "boots on the ground"
• We're highly familiar with network infrastructure and datacomm wiring systems
• Just ask for references
• We'll work weekends and evenings!
We are your single-source for all business network wire, cable, and server installation services.
TechVoo® manages the cost of new implementations by efficiently managing all projects. We work hard to guarantee a smooth transition and installation for your companies to build-out or move.
We offer a wide selection of network services ranging from high-voltage wiring to troubleshooting and maintenance of all your structured wiring and computer and server needs.
Our Microsoft certified technicians have the experience and tools to resolve any issue quickly. Allow TechVoo® to be your single source for managed IT services, network installation, servers, and racks.
We are here to assist you with your high and low voltage wiring and cabling needs. Contact TechVoo® today for a free onsite or phone estimate. Information Technology, IT Services in Chicago
Chicago Voice & Data Wiring
Network Wiring & Data Cabling Experts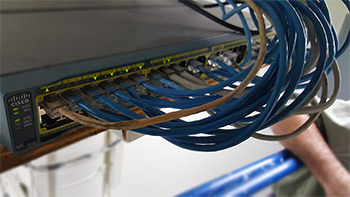 The TechVoo® Low Voltage Wiring Services include.
~ CAT5, CAT5e, CAT6, CAT6A
~ RG6 & RG58 Coax
~ Voice and Data Cabling
~ Lighting & Receptacles Installation
The TechVoo® network infrastructure services can help with office server equipment relocation.
top
Business Relocation Wiring Service
Preparing IT clients for any office move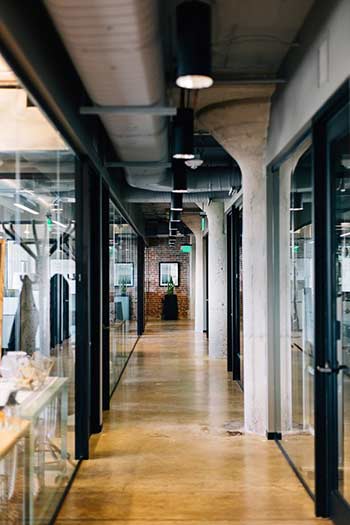 Business Voice & Data Relocation Services.
Irregardless of the project size, your office move and business will receive the highest level of support from our Chicago office relocation services.
TechVoo® provides structured floor-to-floor wiring, network server relocation set up, and maintain all CAT5 and CAT6 Ethernet cable wiring, telephone data video network cabling.
We are licensed to do High-Voltage 120VAC and 230VAC wiring. This allows us to expedite your new office build-out.
You're moving your business across town or expanding to a new floor and IT and phone equipment needs upgrading.
A small or medium sized company has limited resources, so the responsibility of organizing this relocation falls on the owner, an executive, or office manager.
To minimize the amount of downtime to your business and confusion during the move, consider hiring a technical specialists at TechVoo.
top
Chicago High Voltage Wiring Services
120VAC & 230VAC Installation & Hookups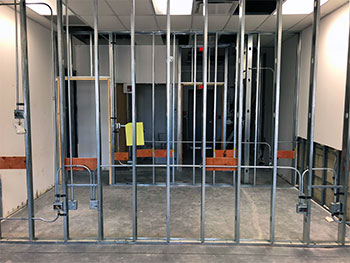 Chicago Office AC Wiring Services.
Wiring an office building today requires a team of dedicated specialist in both Low and High Voltage Wiring.
Are you moving, expanding, or building your new office space? There are many important considerations in modern cable management design.
Communications networks and control systems all rely on stable uninterruptible AC power, for today's offices' cabling.
Proper Low-Voltage and High-Voltage wire and cable management is a necessity and a quintessential design element.
top
Low Voltage Wire & Cable Services
Lighting, Receptacles, Voice, Data, Server Wiring
We are a licensed low voltage wiring contractor. Our low voltage electricians install Lighting and Receptacles, Voice and Data wiring, Fiber Optic Cable, Server Wiring, and Structured Label Cabling serving Chicago and Northern Illinois suburbs.
We are Licensed and Bonded for commercial electrical as electrical contractor in Northern Illinois, we'll pull your permit and get your project passed quickly.
We just launched our third IT Consulting and Computer Repair store in Elk Grove Village serving the near by industrial base. We are here to answer all your technology questions and to help leverage technology to work for your business.
Wiring Networks is a Chicago land Structured Voice and Data Wiring Company Serving Addison, Arlington Heights, Bensenville, Bloomingdale, Bolingbrook, Chicago, Des Plaines, Elk Grove Village, Elmhurst, Glen Ellyn, Hinsdale, Hoffman Estates, Itasca, Mt Prospect, Oak Brook, Rolling Meadows, Roselle, Schaumburg, Schiller Park, Skokie, Woodridge, Wood Dale.
top
Leah, Elmhurst IL.
"I have a small business in Elmhurst. I had just moved my website to a new provider and I couldn't get my email to move over. I spent 2 days trying to make it work. I called Amit and he was able to move it over within an hour. He also reconfigured a new computer so all my email accounts went to one central location. He was very knowledgeable and the price was reasonable."
Andy, Mundelein IL.
"Amit and Jeff are true pros! All of our company's computers, emails, and phones were set up by TechVoo. They can explain really technical concepts in plain English without making you feel like a 9 year old. Also, they have never come close to "Nickel-and-diming" us like some of the big box stores are prone to do."
Ei, Glen Ellyn IL.
"I brought in an old computer and needed my data and software uploaded to my new computer. It was flawless. I have used TechVoo for all my computer needs over the past 7 years and have always been happy with the service."