Vanilla-Box Delivery Case Study
Office Tower Tenant Move-Out Overview
This project's scope was to remove existing wiring and network equipment in a large office space with complex insurance requirements. The goal was to gut all cables without damaging the walls or ceiling, where a significant portion of wires was previously placed. The project required working on multiple floors of a large building to get rid of all materials.
Schaumburg Office Tower Solution
The first step was to clear all the equipment and network racks out of the server room. The next step was to remove all the wires from the ceiling and walls. While the team drew all connections, they ensured they left badge readers, thermostats, and alarms in place. Since the team pulled wires from the ceiling, they also replaced the ceiling tiles. The team also supplied and installed white single and dual gang wall plates to close the low-voltage openings. Lastly, the group packed the cable and cable management pieces into a truck since TechVoo also supplied the shipping materials and handled the haul-away, recycling, and return shipping process to headquarters.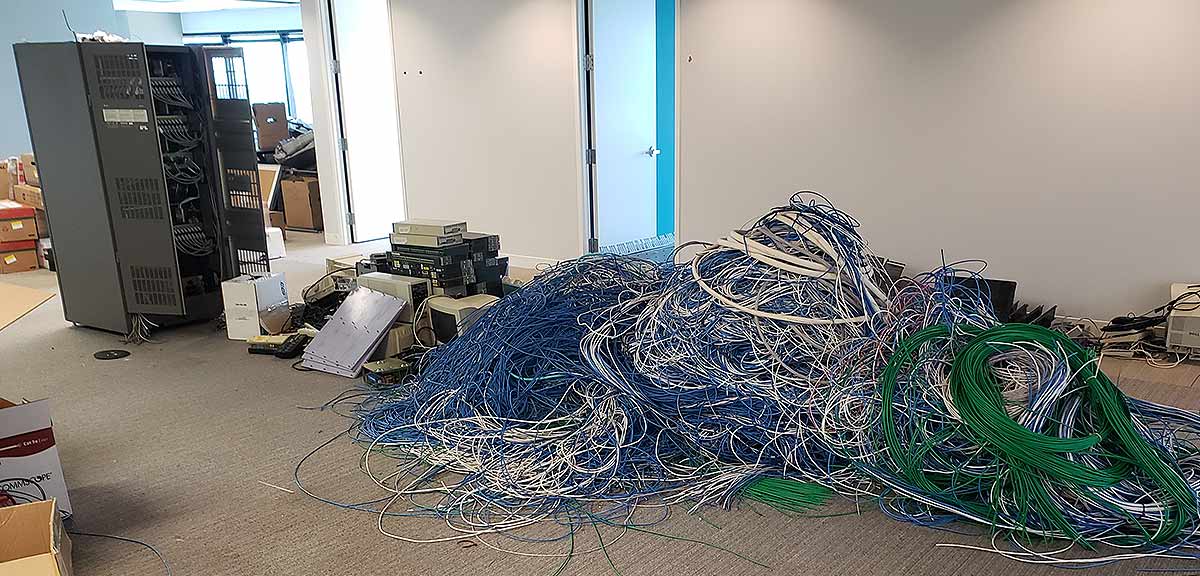 top
Office Tower System Summery
The Office Network
Whether a job calls for rewiring, relabeling, or removing a substantial amount of wiring, the TechVoo team has the experience to get the job done. The pictures above speak for themselves. Not only did the team successfully remove all the runs without inflicting any damage, but it also took care of the haul-away — ensuring that the client was adequately taken care of all the way through.
top
Summery
In this instance, TechVoo not only completed high and low-voltage wiring work as initially planned, but the team also caught mistakes from a former electrician and corrected them. TechVoo ensured the client company was covered when it came to unforeseen difficulties by working beyond the project's original scope.
Serving Northern Illinois Location. Addison, Arlington Heights, Bensenville, Bloomingdale, Bolingbrook, Chicago, Des Plaines, Elk Grove Village, Elmhurst, Glen Ellyn, Hinsdale, Hoffman Estates, Itasca, Mt Prospect, Oak Brook, Rolling Meadows, Roselle, Schaumburg, Schiller Park, Skokie, Woodridge, Wood Dale.
top