Vanilla Box Delivery Case Study
Office Relocation Wiring Overview
TechVoo not only helps businesses with their wiring needs, but we also assist with professional relocation services. In the case of a local land surveying and mapping company, the TechVoo team did both. Also located in Elk Grove Village, the client company needed to move to a new office and set up new wiring with custom keystone colors and a location-specific labeling system.

Office Relocation Wiring Solution
First, the TechVoo team filed a permit with Elk Grove Village to ensure safety and local jurisdiction compliance. As a licensed contractor, TechVoo can always acquire a municipal permit for customers to guarantee every job is done correctly. The next step was to remove all the existing network overhead. This process required removing old data and voice cables in a high ceiling, in addition to proper removal of all wall plates and replacement with color-matched blank plates throughout. Once the team removed the old materials, it was time to add 76 new Cat5e Plenum Ethernet runs. The client requested custom colors for this job, for which the TechVoo team utilized blue for cable and white for voice keystones, with all Plenum wires matching this color scheme. Additionally, the team added four ceiling-mounted wireless access point (WAP) wire drops.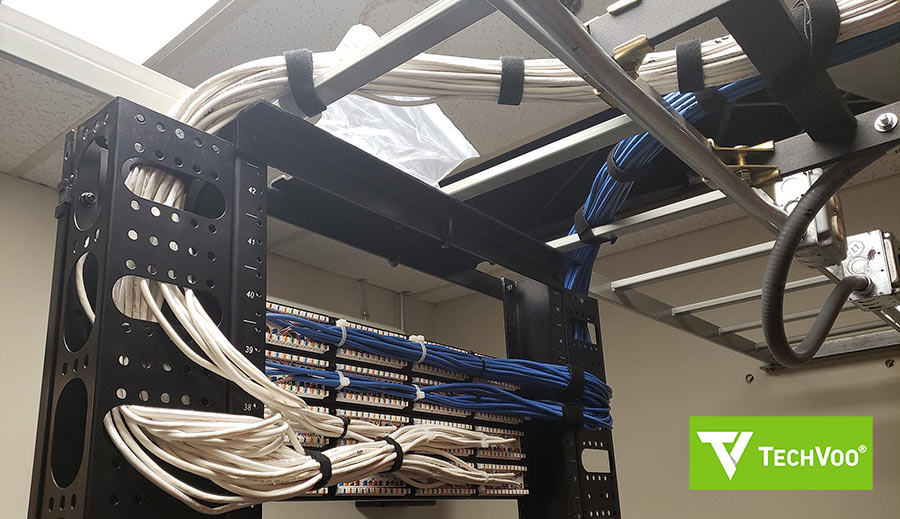 In terms of cable management, the team added J-hooks and bridle ring support to the wire runs. Furthermore, the team penetrated a cinder block in between 2 units to add a fire sleeve for the wire path. As a safety and organization measure, the group also added firestop going through the ceiling.
Finally, the TechVoo team installed 2-post 42U network racks and properly secured ladder racks overhead in the network room, along with 48-port patch panels.
top
Office Relocation Summery
The Office Network
Everyone needs a helping hand when moving spaces. Dealing with tedious wiring on top of that only adds stress and complicates the task further. TechVoo offers expert help on both issues with a professional team that works hard to correctly get the job done. Thanks to TechVoo's support, the client company relocated efficiently and without worrying about its network wiring.
Serving Northern Illinois Location. Addison, Arlington Heights, Bensenville, Bloomingdale, Bolingbrook, Chicago, Des Plaines, Elk Grove Village, Elmhurst, Glen Ellyn, Hinsdale, Hoffman Estates, Itasca, Mt Prospect, Oak Brook, Rolling Meadows, Roselle, Schaumburg, Schiller Park, Skokie, Woodridge, Wood Dale.
top