Wire & Cable Labeling
Server & Cable Labeling
Doing cable and wire labeling the right way can save a lot of time and money down the road with system changes or repairs. To identify, assemble, and repair wire harnesses, data or telecommunications systems and electrical control panels, it becomes imperative to do cable and wire labeling accurately.
Which of the many wire labels such as wrap-around labels, heat-shrink sleeves, self-laminating labels, flags, or rigid tags do you need?
Here are a few questions to help you decide the type of label you need: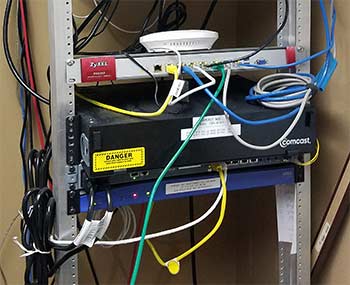 Is there an industry or customer specification that must be met?
What environment or chemicals will the labels be exposed to?
Are you marking the wires before or after termination?
What is the gauge of wire you are marking?
ANSI/TIA-606-B is a voluntary standard that establishes the labeling and record-keeping standards for telecommunications and network systems in industrial, residential, and healthcare facilities. It identifies what needs to be labeled and provides a recommended identification scheme that is harmonized with the ISO/IEC TR14763-2-1 international identification scheme.
Labeling should be pervasive; cables and connecting hardware should be labeled, but so should conduits and firestops, grounding and bonding locations, racks, cabinets, ports, and telecommunications spaces.
~ Labeling must be logical and consistent, across all locations, matching the project drawings.
~ The labeling scheme must identify the associated physical locations (building, room, cabinet, rack, port, etc.)
~ Labeling must be easily read, durable, and capable of surviving for the life of the component that was labeled.
~ The labeling system, and the identifiers used, must be agreed upon by all stakeholders.
~ All labels must meet requirements for legibility, defacement, and adhesion, specified in UL969.
We are here to assist you with your high and low voltage wiring and cabling needs. Contact TechVoo® today for a free onsite or phone estimate. Learn more here.
Wire Color Coding
Recommendations for color compliant coding
TechVoo® recommends color compliant coding like, color labels or color bands. The color coding scheme recommendation in 606-B are as follows:
Blue ~ Termination of horizontal cabling at the closet end only
Brown ~ Interbuilding backbone cables across a campus
Gray ~ Second-level backbone: cabling between two TRs, or between an intermediate cross-connect and a TR in a remote building
Green ~ Network connections on the customer's side of the demarcation point
Orange ~ Demarcation point of a central office termination
Purple ~ Common equipment: PVBX, LANs, and individual computers
Red ~ Key telephone systems termination
Yellow ~ Auxiliary circuits, such as alarms and security systems
White ~ First level backbones' main cross-connect to a telecommunications room (TR)) in the same building
Should Network Cable Labeling be use?
Labeled Voice and Data Cable Reduces Diagnostic Time
We weren't always known as TechVoo®. Years ago we started as Fast On Site Computer Repair. TechVoo® offers a personal touch with our customers. We are a locally owned business in Northern Illinois with a headquarters in Elk Grove Village. We are here to answer all your technology questions and leveraging technology to work for your business.
TechVoo® is a structured Voice and Data Wiring Company Serving Addison, Arlington Heights, Bensenville, Bloomingdale, Bolingbrook, Chicago, Des Plaines, Elk Grove Village, Elmhurst, Hinsdale, Hoffman Estates, Glen Ellyn, Itasca, Mt Prospect, Oak Brook, Rolling Meadows, Roselle, Schaumburg, Schiller Park, Skokie, Wood Dale, and Woodridge.
top