Office Lights & Outlet Wiring
Commercial Electrician
Install Lights, Switches & Outlets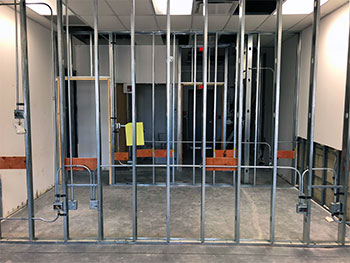 For Commercial Electrician Services and Installation of lighting, switches, or outlets in your commercial or industrial facility, you can trust TechVoo to install, update, or service any commercial electrical complex.
BUSINESS ELECTRICAL SERVICES:
• Rack and Server Electrical Wiring
• Office Lighting Design and Installation
• Energy Efficient Upgrades
• Outlets and Switch Retrofitting
• LED Emergency Lighting
• Signage Wiring
PLANNING AND INSTALLATION OF COMMERCIAL LIGHTING
If you're building or remodeling, you'll need a lighting plan to make sure your business space has proper lighting and is energy efficient. Our skilled master electricians will assess your company's unique needs to determine the appropriate number, type, and installation of lighting fixtures, outlets, and switches. Our expert team knows how vital this part of your building project is, so we pride ourselves on doing the job right and on-time.
BUSINESS INTERIOR LIGHTING SERVICES FOR NEW CONSTRUCTION AND REMODELING
• Electrical Rough-Ins & Build-Outs
• Office Interior Wiring
• Electrical Systems Design and Builds
• Installation of Lighting Fixtures, Outlets, and Switches
Whether you are rewiring the office, repairing circuits, or planning an office build-out, we will provide high-quality service every time. Our expert electricians are unmatched by the local competing companies.
TechVoo® is a structured Low and High Voltage Wiring Company Serving Addison, Arlington Heights, Bensenville, Bloomingdale, Bolingbrook, Chicago, Des Plaines, Elk Grove Village, Elmhurst, Hinsdale, Hoffman Estates, Glen Ellyn, Itasca, Mt Prospect, Oak Brook, Rolling Meadows, Roselle, Schaumburg, Schiller Park, Skokie, Wood Dale, and Woodridge.
We are here to assist you with your high voltage wiring and cabling. Contact TechVoo® today for a free onsite or phone estimate. Learn more here.
High Voltage Office Wiring and Cabling
120VAC & 208VAC High Voltage Office Wiring and Cabling Services
Efficiency is the difference between 120VAC and 208VAC.
The difference between 120VAC and 208VAC is that 208V circuits tend to deliver more power and are (generally) designed to be more robust. One must take into account that only about 80% of the total power will be considered usable for a variety of reasons. Take two common examples:
The standard 15A 120V circuit has capacity for 1.8kW * 80% = 1.44kW
The standard 30A 208V circuit has capacity for 6.24kW * 80% = ~5kW
That is a big difference. Also, remember that the 208VAC is more power efficient by about 2%. 120V is considered a lower density option but is readily available. An example of this is the 8x GPU server running in office using 10.3 Amps. That's about 10.3A * 208VAC = 2143w.
top